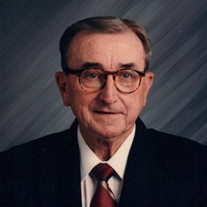 February 2, 1920 - October 6, 2014
Thurman G. Smith helped open two elementary schools in the city, and served as superintendent of the Springdale School District for 19 years. Jim Rollins, superintendent of the district, said Smith hired him as director for secondary education in 1980. He remembers Smith as a positive and encouraging person, and a good leader.
Northwest Arkansas Democrat Gazette
Thurman lived and grew up in Poughkeepsie helping on his family's farm. He graduated from Poughkeepsie High School in 1938. He entered Arkansas College now Lyon College in Batesville, Arkansas. He played basketball and was an excellent defensive player. "Smitty" as his friends knew him, was always assigned to the opponents best offensive player.
After finishing his Junior year he joined the United States Coast Guard serving in Alameda, California, San Francisco, Honolulu, T.H. Baltimore, Maryland at Ft. McHenry and in St. Louis. During his time he served as Seaman and Port Security Specialist, he trained in stowage of explosives. He was Honorably Discharged October 31, 1945. He married Etta Virginia John on February 22, 1947. He graduated from Arkansas College in 1948 with a Bachelor of Science Degree, majoring in Social Science and minoring in Physical Education.
He coached basketball and taught in rural schools in Sharp and Fulton counties in Arkansas. He was employed by Cave City High School from 1947 to 1952. He received his Masters of Education Degree from the University of Arkansas in 1955. He was Superintendent at Vandale, Arkansas Schools before moving to Springdale in 1957 where he taught Business Math and World History at Springdale High School. He served as Administrative Assistant to Superintendent, J.O. Kelly from 1958 - 1963.
Mr. Smith served as Superintendent of the Springdale School System from 1963 until 1982 during which time he earned a Diploma of Advanced Study from the University of Arkansas. Thurman oversaw enormous growth of the Springdale School System during this time, while raising his family.
Mr. Smith was a member of the First Christian Church in Springdale where he served as a Deacon, Elder and Chairman of the Board. He was a member of Springdale Chamber of Commerce, Springdale Rotary Club, member and past President of Springdale Kiwanis Club and the Springdale Country Club. Mr. Smith was a member of American Association of School Administrators, Arkansas Education Association of Educational Administrators and is a life member of the National Education Association.